Burnt Store Village Real Estate Search
Burnt Store Village Property Owners Association
Burnt Store Village is located in the southern portion of Charlotte County along Burnt Store Road. The Village consists of 1475 building lots and boasts homes that are ideal for the retiree as well as young families who are looking for a good value.

The Village is conveniently located near neighboring communities of historic Punta Gorda, Port Charlotte, Cape Coral, Fort Myers and the I-75 corridor. It is nestled in a quiet area ideal for privacy and laid back living, but is close to the amenities of the area, including boating, fishing, water sports, golf, fine dining, beaches, shopping, and hotels.

Two airports, Charlotte County and South West Florida International, are within an easy commute.

The Punta Gorda area contains two elementary schools, one middle school, one high school and several high-quality private schools. There are also several four-year colleges within an easy commute. The area boasts several award-winning healthcare facilities and healthcare specialists.

The Village is located only minutes from Burnt Store Marina, a beautiful complex with an extensive resort and golfing facilities. It also offers 50 acres of wet dockage, dry boat storage with in/out service and a boat ramp. The marina has a restaurant and deli. All facilities are open to the public.

Burnt Store Village was developed in 1977 by Punta Gorda Isles (PGI) as a predominantly single-family development. The Village's current residents are made up of retirees, young families, and singles. It is a diverse group that is brought together by the Association's participatory activities.

The Village is a deed restricted community with reasonable standards targeted at creating and maintaining value in the community. Further enhancing the Village's desirability are the County water and sewer systems which were established in the Village prior to the construction of homes. Most of the homes in the Village were built during the building boom of the early 2000s.

The Village contains 139 acres of common open space including a resident park with walking paths and a gazebo for community events. All homes enjoy (association maintained) common green space to the rear. Biking is a popular past time on our 13 miles of quiet roads. Sightings of wildlife, particularly Florida's water birds, are common occurrences.
In 1994, PGI turned over the affairs of the Village to the Burnt Store Village Property Owner's Association (BSV POA) to manage the Village and maintain deed restrictions. The Property Owner's Association activities are managed by an elected Board of Directors.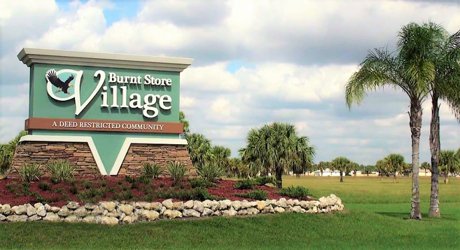 MLS Detectives Group - LOOK NO FURTHER!